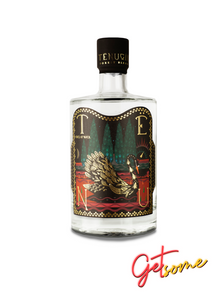 ✔ Authorised Retailer
Tenu Gin is a distillation of its founders' love for nature, mysticism, humour and hard work. 
This almost-mythical spirit consists of botanicals taken from the depths of Finnish pine forests, then distilled by actual monks in Valamo Monastery Distillery in Heinävesi, Finland.
Tenu's slogan 'The Spirit of the Forest' describes their humble effort to pass on the magical sensation when you become one with the surrounding nature. This may be a complex idea for native urban dweller, but Tenu can just be the missing part to start this exciting  journey. Tënu gin is elegant, balanced, floral yet strong. The main ingredient juniper is not dominant. 
Full ingredient list: Juniper berries (51%), wild lingonberries, orris root, arctic rose petals, coriander seeds, fennel seeds, lemon and pink grapefruit peel.

Base Alcohol: Molasses from sugar beet.

Combined With: Cherry, floral aromas, umami and bitters.

Tasting Notes:
Nose: Sweet; with lingonberries, roses, meadowsweet

Palate: Roses, cherry, juniper, grapefruit

Finish: Juniper, coriander leaves.
Note: This product is delivered by Get Some. Please direct any shipping-related feedback or enquiries to them at HAPPYENDINGS@GETSOME.SG.
 Get Some is located at 727 Clementi West Street 2, #01-282, Singapore 120727.