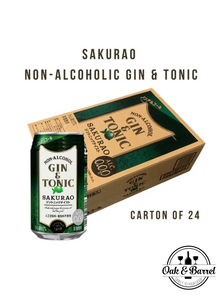 ✔ Authorised Retailer
Sakurao Distillery's most unusual product actually does not contain alcohol. They craft distillery has also made it possible to enjoy gin and tonic, a popular cocktail with a refreshing and dry taste – without alcohol.
The palate opens with slightly sweet notes of citrus and juniper notes before a bitter quinine note from tonic water rushes in. The finish is a fading note of fresh limes and a lingering sweet and dry taste on the tongue.
A complex yet exquisitely harmonious gin and tonic. Juniper berry aroma oil is used to enhance the taste and flavour of the gin and tonic.

Contains 3% fresh limes and 0% alcohol.

Note: This product is delivered by Oak & Barrel. Please direct any shipping-related feedback or enquiries to them at orders@oakandbarrel.com.sg.