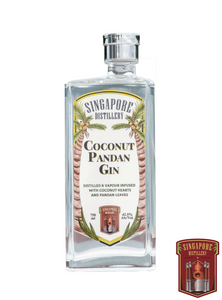 ✔ Authorised Retailer
Roses are red, Pandans are green, we couldn't get enough of their Coconut Pandan Gin. No one celebrates Singaporean flavours quite as well as Singapore Distillery, with a multitude of creations that reflect classic local confection. One evokes the creaminess of coconut milk and pandan. Another, an ode to Malay rose syrup (Bandung). 

Distilled with the freshest herbs sourced from humble local grocers, these folks tell us exactly how Singapore tastes in a bottle 🥥🌴🌹🧉.

Their flagship Coconut Pandan Gin is distilled right along with fresh coconut flesh, coconut hearts and pandan leaves.
Pandan and Coconuts are traditionally paired in Southeast Asian cuisine. Pandan's unique and rich aroma complements the creamy, satisfying flavour of Coconuts.
Singapore Distillery scoops out the tender flesh from fresh coconuts and places them in the basket of their copper still along with pandan leaves.
Also used are fresh "coconut hearts" which are fruits that grow within mature coconuts. This imparts a highly aromatic and concentrated coconut essence that adds incredible depth to the gin. Juniper Berries, Oranges, and other spices are then vapour-distilled to extract a layer of delicate flavours that compliment creaminess of Coconuts and Pandan, resulting in a gin that reminds us of a breezy, sandy, tropical beach.
Note: This product is delivered by Singapore Distillery. Please direct any shipping-related feedback or enquiries to them at admin@singaporedistillery.com.