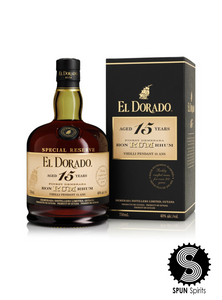 ✔ Authorised Retailer
✔ 88 Bamboo Tried & Tested
Guyana may well be located in South America, but its soul is fully Caribbean. El Dorado is a pioneering brand of premium sipping rum (i.e. good enough to drink neat) from the only remaining live distillery in Guyana - the Diamond Distillery. Credited for popularising sipping rum in a market that did not originally appreciate rum neat, El Dorado has gone on to win many awards and become recognised as the world's best rum at many competitions. Their rums have a signature note of cinnamon sugar, banana cake, chocolate syrup and a liquorice-like note of Chinese Pei Pa Koa syrup (枇杷膏).
This isn't the oldest from El Dorado, but it's certainly the most famous expression. The 15-year-old was the first expression to be released under the El Dorado label, and credited for turning the world towards sipping rums. It is also a four-time winner of "Best Rum in the World" at the International Wine and Spirits Competition (IWSC), so this is some objectively good rum.
It marries spirits from the Enmore and Diamond Coffey stills, the Port Mourant double wooden pot still and the Versailles single wooden pot still. All these rums are then blended and aged in bourbon oak casks.
Nose: Dark brown sugar and thick, gooey toffee, notes of stewed stone fruits, prunes and molasses.
Taste: Sweet and syrupy with notes of sweet spices, thick notes of dark brown sugar and molasses, treacle, toffee and prunes.
Finish: Long, creamy and thick, dark spices.
Note: This product is delivered by SPUN Spirits. Please direct any shipping-related feedback or enquiries to them via WhatsApp.