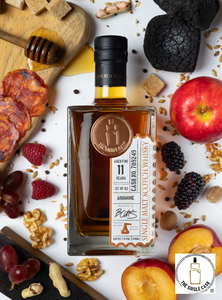 ✔ Authorised Retailer
✔ 1 of 82 Bottles
Peat - that intense smoky, sometimes medicinal like-it-or-hate-it flavor - is not something that typically gets paired with whiskies originating from the Scottish Highlands.

Yet, here we have a prime example of said rarity! A peated Highland whisky, and a smooth one at that! So smooth and creamy that is remains the secret sauce of the popular Teacher's Highland Cream blend.

You know what's even more unique about this bottle, it is probably one of the rarest times you'll find a Red Wine cask finished Ardmore!

This Ardmore features that signature sweet peat, umami - apple tea notes that give the creamy texture a solid earthiness. It is perfumery on the nose, sweet, juicy fruity ~ on the palate, with just a tinge of barbeque ends. The finish is sweet and just touch nutty. This is accentuated by the red wine notes that give it a tawny note of deep red berries and oak and tannins.

This bottle goes perfect with a bowl of pasta, our recommendation is to pair it with that carbonara you've been dying to whip up.
Nose: Sweet peat, nutmeg, heavily-charred wood
Palate: Rich red fruits, smoky driftwood, slightly sweet roasted meat
Finish: Long, nutty, sweetness follows through, slightly drying
Bottle Stats
| | |
| --- | --- |
| Distillery: Ardmore | Brand: The Single Cask |
| Region: Highland, Scotland | Status: Active |
| Distributor: Independent Bottling (IB) | Classification: Scotch Whisky |
| Style: Single Malt | Cask: Red Wine Octave |
|  Age: 11 Years Old | Abv: 55.7% |
Note: This product is delivered by The Single Cask. Please direct any shipping-related feedback or enquiries to them.