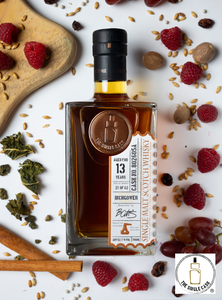 ✔ Authorised Retailer
✔ 1 of 62 Bottles
One of the more secretive Speyside distilleries, Inchgower is unique because while it shares the characteristic fruitcake, raisins and dates profile of its fellow Speyside brothers, it happens to be located in a small fishing town off the Speyside coast, giving it a more saline, coastal sea spray note.

This seaspray, reminiscent of oysters, combines with the fruitcake Speyside flavors to give wonderfully complex flavors that you'd find in salami or pickled fish. The kicker here is really the gorgeous umami notes that fill the top notes and are immediately recognisable. Yet the base notes are filled with fragrant, deep, rich dried tea leaf flavors. A great comparison would be that of Chinese tea cakes (Pu-erh Bing Cha).

What's more, this single malt was finished in a Red Wine cask, accentuating the light berries, pomegranates and berries with light oak flavors and nice touches of tannins.

This would be a big hit for those who love black tea, preserved meats and miso fans. Pairs wonderfully with cheeseboards and white meats.
Tasting Notes:

Nose: Rancio, red fruits, green tea, cinnamon, white grapes, allspice
Palate: Red fruits, rancio, green tea, cinnamon, allspice, oak, malt and nutmeg 
Finish: Medium, rancio, red fruits, allspice, oak and malt
Bottle Stats
| | |
| --- | --- |
| Distillery: Inchgower | Brand: The Single Cask |
| Region: Speyside, Scotland | Status: Active |
| Distributor: Independent Bottling (IB) | Classification: Scotch Whisky |
| Style: Single Malt | Cask:  Red Wine Finish |
|  Age: 13 Years Old | Abv: 52.7% |
Note: This product is delivered by The Single Cask. Please direct any shipping-related feedback or enquiries to them.