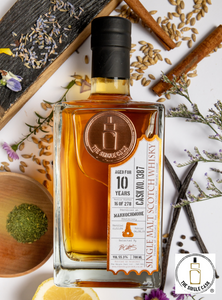 ✔ Authorised Retailer
✔ 1 of 278 Bottles

This one's an interesting one. Mannochmore Distillery first caught the attention of drinkers when it released for a brief period of time, "Loch Dhu", which translates to "Black Lake" in Gaellic. And for good reason! The whisky was literally black in color! Today, the distillery is a core malt used in Diageo's Johnnie Walker and Haig blends.

The distillery is known to produce sweet, malty whiskies that feature florals, black tea, with a good spicy kick!

Best savored alongside some Kouign Amann, Cinnamon Rolls and a good Ribeye.
Tasting Notes:
Nose: Sweet malt, cinnamon, vanilla and floral elements at the fore.
Palate: Sweet malt, cinnamon, oak, vanilla and floral hints, followed by green tea, lemon, lavender and black pepper.
Finish: Oak, vanilla, black pepper and hints of lemon and lavender.

Bottle Stats
| | |
| --- | --- |
| Distillery: Mannochmore | Brand: The Single Cask |
| Region: Speyside, Scotland | Status: Active |
| Distributor: Independent Bottling (IB) | Classification: Scotch Whisky |
| Style: Single Malt | Cask: Bourbon, Cask #1387 |
|  Age: 10 Years Old | Abv: 55.3% |
Note: This product is delivered by The Single Cask. Please direct any shipping-related feedback or enquiries to them.