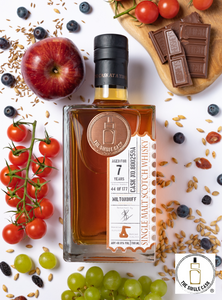 ✔ Authorised Retailer
✔ 1 of 177 Bottles
Miltonduff Distillery was officially licensed in 1824, although it is said that distillation had long been ongoing at that location since the late 1700s. Its buildings have been built on the site of the old Pluscarden Benedictine Monastery, an order of Catholic Benedictine monks, that may have been distilling the water of life themselves since the 18th century.

Miltonduff's single malts are known for their fresh floral notes, roasted nuts, mild savouriness and a light body. 

This bottling has been matured in a first-fill Pedro Ximénez sherry cask which imparts very sweet and intense notes of dark fruits, raisins, hazelnuts, maple syrup and light tannins. You would love this if you enjoy the chocolate-cherry richness of black forest cakes, or the rich sweetness of Turkish delight.
Tasting Notes:

Nose: Red fruits, black pepper, green tea, rancio, malt, oak and nutmeg
Palate: Red fruits spiced with cinnamon and nutmeg, rancio, black pepper and malt
Finish: Long finish with the red fruits, nutmeg, malt and rancio at the fore
Bottle Stats
| | |
| --- | --- |
| Distillery: Miltonduff | Brand: The Single Cask |
| Region: Speyside, Scotland | Status: Active |
| Distributor: Independent Bottling (IB) | Classification: Scotch Whisky |
| Style: Single Malt | Cask: 1st Fill PX Quarter Cask, Cask #800259A |
|  Age: 7 Years Old | Abv: 48.8% |
Note: This product is delivered by The Single Cask. Please direct any shipping-related feedback or enquiries to them.