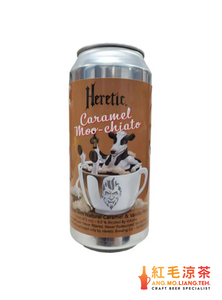 ✔ Authorised Retailer
Looking for that rich combination of robust roastiness and creamy sweetness, but tired of your local coffee shop misspelling your name? Time to moooo-ve on to something different. Heretics' milk stout has a rich smoothness that can only come from natural caramel and vanilla flavors. Caramel Moo-chiato is such a perfect balance of dark and sweet, you'll want to keep drinking it until the cows come home.
Recommended Serving Temperature: 7 - 10°C
Food Pairing: Malty Granola or Breakfast Cereal
Note: This product is delivered by Ang Mo Liang Teh. Please direct any shipping-related feedback or enquiries to them at cheers@amlt.sg.