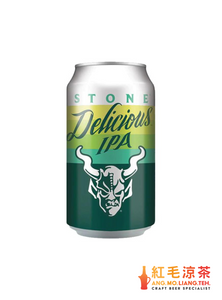 ✔ Authorised Retailer
Stone Delicious IPA is a tangible example of why continual IPA and hop exploration are so fulfilling. With the Lemon drop varietal as a centrepiece and a massive dry hop composed exclusively of lemony El Dorado hops from Washington State, this beer lives up to its name behind a plethora of tart, citrusy notes and a stunning grove-like, lemon tree bouquet, providing a graceful yet in no way subtle one-two punch to the senses.
Recommended Serving Temperature: 7 - 10°C
Food Pairing: Buffalo Chicken Wings & Cajun Shrimp Skewers
This product is Vegan-Friendly and Gluten-Reduced
Note: This product is delivered by Ang Mo Liang Teh. Please direct any shipping-related feedback or enquiries to them at cheers@amlt.sg.