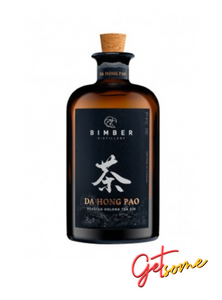 ✔ Authorised Retailer
Da Hong Pao Tea Gin is an earthy, floral, richly coloured gin made with one of the world's most expensive teas and expertly handcrafted at their London distillery – also known for its single malt whisky. Da hong pao tea (大红袍) is a rare, heavily oxidised oolong tea with an earthy, floral and sweet taste profile. Prized by tea connoisseurs worldwide, Da Hong Pao grows between the rocks of Southern China's breath-taking Wuyi Mountains.
Once brewed and drained, they mix these rare tea leaves with their high-strength gin, which is expertly made with high quality and special selected botanicals. They infuse the gin and tea leaves for maximum flavour extraction before being filtered and bottled at a high-strength of 51.8% abv.
Tasting Notes:
Fragrant and floral tea with a somewhat tannic quality, alongside more floral lavender and vibrant citrus underpinned by a touch of smoke.
Note: This product is delivered by Get Some. Please direct any shipping-related feedback or enquiries to them at HAPPYENDINGS@GETSOME.SG.
 Get Some is located at 727 Clementi West Street 2, #01-282, Singapore 120727.