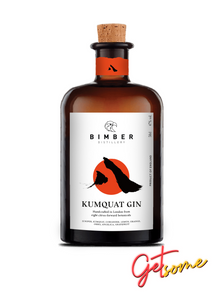 ✔ Authorised Retailer
Bimber Kumquat Gin is a bright, crisp and delightfully refreshing gin crafted from eight botanicals including kumquat at Bimber Distillery in London – also known for its single malt whisky. Native to China, this rare and naturally small variety of citrus grows slowly, producing very large, lusciously flavoured fruits. Kumquat Gin is expertly handcrafted at Bimber Distillery and presents as a classic juniper and citrus-forward gin that is bursting with bright and bold flavours. The Gin is wonderfully versatile: it can be enjoyed in a simple gin & tonic or served with a splash of soda water or ginger ale over the ice. Bimber Kumquat Gin also makes a superb martini - just add your favourite vermouth.
Tasting Notes:
Clementine, apricot, a crackle of black pepper, lemongrass, and tangy lime on the finish.
Note: This product is delivered by Get Some. Please direct any shipping-related feedback or enquiries to them at HAPPYENDINGS@GETSOME.SG. 
Get Some is located at 727 Clementi West Street 2, #01-282, Singapore 120727.