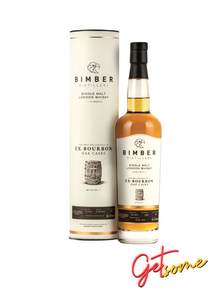 ✔ Authorised Retailer
Bimber Distillery in London was founded by whisky lovers, with a mission to produce high-quality single malt whisky with character, using traditional methods that are rarely seen today. The journey begins at Bimber's single farm, where 100% of their barley is grown. They are then traditionally floor malted, hand-mashed and fermented slowly for seven days in Bimber's wooden washbacks that were hand-made by Bimber's own cooperage.

Unlike the vast majority of distilleries that use steam, Bimber uses direct fire to heat their small copper pot stills before maturing their spirit in hand-selected casks. Finally, the whisky is bottled onsite at Bimber Distillery. Bimber's hand-crafted approach to whisky production passionately combines traditional methods, expertise and an absolute commitment to quality.
Bimber's Ex-Bourbon Single Malt had been exclusively matured in ex-bourbon oak casks constructed from American white oak (also known as Quercus Alba). This allows the underlying character of Bimber's fruit-forward spirit to shine, and also imparts notes of sweet, rich vanilla and caramel flavours alongside perfectly balanced spice. 
Tasting Notes:
Nose: Green apple peels and dried stone fruits are joined by milksoaked breakfast cereals, whilst vanilla sponge cake and desiccated coconut sit with buttered toast.
Palate: An impactful combination of bright orchard fruits, baked apricots and sprightly pepper spicing sit with gently charred oak and creamy vanilla.
Finish: Lasting sweetness tempered by persistent spicing.
Note: This product is delivered by Get Some. Please direct any shipping-related feedback or enquiries to them at HAPPYENDINGS@GETSOME.SG. 
Get Some is located at 727 Clementi West Street 2, #01-282, Singapore 120727.