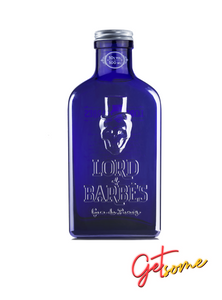 ✔ Authorised Retailer
Born in Barbès, "Little Africa" of Paris and created by Hervé Lopez, Lord of Barbes Gin incorporates nine botanicals: juniper, coriander, cardamom, grains of paradise, angelica roots, mango, ginger, nutmeg and, unusually, the baobab fruit native to Africa – a sweet and tangy fruit loved by monkeys (and thus nicknamed 'monkey bread'). Distilled with wheat alcohol, juniper berries and aphrodisiac plants, it brings a touch of acidity and bitterness and gives the gin its incredibly special taste.
Tasting Notes:
Nose: strong floral notes; in particular lavender, acacia and honeysuckle, followed by spices such as cardamom, juniper berries and nutmeg. Notes of mango and almond milk give a glimpse of the indulgence to come.

Palate: juniper berries arrive first and are closely followed by ginger. The freshness of these aromas compliments the bold and rich texture of the gin, and the aromas of the baobab fruit compensate for the bitterness and the acidity in the mid palate.

Finish: white flowers interspersed with coriander seeds and pepper.
Note: This product is delivered by Get Some. Please direct any shipping-related feedback or enquiries to them at HAPPYENDINGS@GETSOME.SG. 
Get Some is located at 727 Clementi West Street 2, #01-282, Singapore 120727.