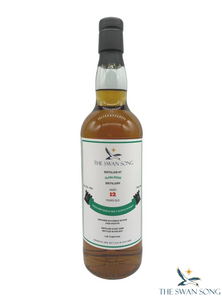 ✔ Authorised Retailer
✔ 88 Bamboo Tried and Tested
✔ 1 of 71 Bottles
Glenlossie, the Speyside Scotch distillery, just so happens to be the secret sibling of some pretty well known distilleries - GlenDronach, Longmorn, BenRiach, just to name a few. The common gene? They were all operated by legendary Scotch maker John Duff. The distillery later came to be owned by Diageo, and in fact, was so highly regarded as one of Diageo's twelve "top class" malt whiskies, that less than 1% of it was left for its own bottling or for independent bottlers. Till today, it is one of the secret sauces for Diageo's Haig Club blended whisky.

Glenlossie is known to produce highly fruity and perfumery floral whiskies that are known for a distinctive sea-salt milk chocolate note.
Flavour Profile: Fruity and Spicy
Tasting Notes:
Nose: Red cherries, cranberries, pomegranate, there's a farm freshness to it. Light earthiness of soil, tobacco leaf, espresso and coffee bits. Fruit cask, blackforest cake, distinctive, yet mellowed on the nose.
Palate: Big and bold - lots of plums, red grapes, some blueberries, but gone is that tartness on the nose. Lots of ripeness and juiciness here. Then there's a whole lot of woodiness which balances out the sweet fruits.
Finish: Short, minty like spearmint. With the sherried notes remaining as the oak fades off. I'm left with some bits of coffee grinds and some leftover berries.
Bottle Stats
| | |
| --- | --- |
| Distillery: Glenlossie | Brand: The Swan Song |
| Region: Speyside, Scotland | Status: Active |
| Distributor: Independent Bottling (IB) | Classification: Scotch Whisky |
| Style: Single Malt | Cask: Bourbon and Sherry Cask Finish |
|  Age: 12 Years Old | Abv: 56.5% |
Note: This product is delivered by The Swan Song. Please direct any shipping-related feedback or enquiries to them.