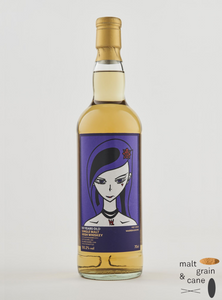 ✔  Authorised Retailer
✔  One of 263 Bottles
Saudade

(noun) pronounced "sow-DAH-djee"

a feeling of longing, melancholy, or nostalgia over a person or a thing that is distant and unreachable.
The "Saudade" Edition Irish Single Malt is part of Malt, Grain & Cane's special series which features bottle art from prominent Asian contemporary artists. This bottle is a bit of a contradiction. It comes from Cooley Distillery in Ireland which was founded at a time when almost all Irish whiskey was produced by the Irish Distillers Limited (IDL) empire. Cooley Distillery was one of the few Irish distilleries free from IDL's stranglehold, and is famous for committing Irish heresy of distilling peated whiskey.  

This is an unpeated Cooley Single Malt. Effortless to drink, but full of apple fruitiness, vanilla cream and a cool mentholated note.

Bottle Stats
Distillery: Cooley 
Brand: Malt, Grain & Cane
Region:

County Louth, Ireland

Status: Active
Distributor: Independent Bottling (IB)
Classification: Irish Whiskey
Style: Single Malt
Cask: Ex-Bourbon Cask
 Age: 18 Years Old
Abv: 50.2%
Note: Limited to 3 bottle per customer. This product is delivered by Malt, Grain & Cane. Please direct any shipping-related feedback or enquiries to them.