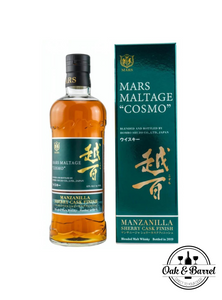 ✔ Authorised Retailer
The latest blend of Japanese malt and imported Scottish malt bottled by Mars is the limited edition Mars Maltage "Cosmo" Manzanilla Cask Finish.
This is a spin-off from the original Mars Maltage "Cosmo" series that has been finished it in an ex-Manzanilla sherry cask. This edition builds on the soft and smooth mouthfeel of standard Cosmo, but adds aromas of dry fruit, brown sugar, maple syrup, dried peach and praline, a palate of subtle maple syrup developing to chocolate, coconut flakes and a slight bitterness.

Note: This product is delivered by Oak & Barrel. Please direct any shipping-related feedback or enquiries to them at orders@oakandbarrel.com.sg.