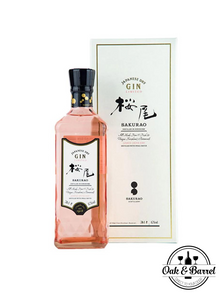 ✔ Authorised Retailer
Ingredients have been sourced from Hiroshima by the master distiller to create the Sakurao Gin Limited Edition, using 17 specially selected botanicals that feature the riches of Hiroshima's land and sea. Ingredients include cherry blossoms (also known as "Sakura"), the symbol of the Sakurao District of Hiroshima. The gin exhibits a broad range of notes on the nose and palate, including fresh lemons, a rich fragrance of yuzu, as well as notes Japanese cypress and oyster shells.

Note: This product is delivered by Oak & Barrel. Please direct any shipping-related feedback or enquiries to them at orders@oakandbarrel.com.sg.