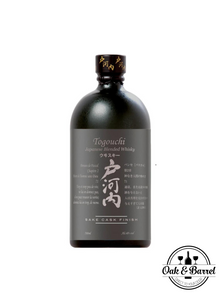 ✔ Authorised Retailer
Togouchi Sake Cask Finish is a blended whisky aged in imported ex-bourbon barrels within an old abandoned railway tunnel beneath the streets of Hiroshima. Batches are then selected by the Chef Blender for an additional 3 months of finishing in saké casks prior to bottling.

A great tribute to Chūgoku Jōzō Brewery, the founding company of Togouchi which has a hundred-year history of saké-making. 
Expressing a delicate nose with notes of vanilla, green apple and malt, this Togouchi expression delivers its complexity on the palate with the appearance of mild acidity, vanilla oakiness and bright orchard fruits. Its long finish leaves fading scents of dragonfruit, spiciness and maltiness.

Note: This product is delivered by Oak & Barrel. Please direct any shipping-related feedback or enquiries to them at orders@oakandbarrel.com.sg.