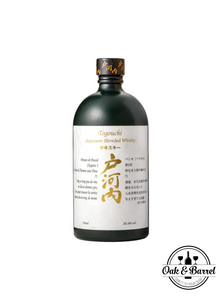 ✔ Authorised Retailer
Before production was shifted to the new Sakurao Distillery in 2018, Togouchi had been blended by the then little-known Chūgoku Jōzō Brewery - better known for its saké production. Scottish malt whisky and Canadian grain whisky were imported, and then aged in an old abandoned railway tunnel beneath the streets of Hiroshima.
Togouchi Blended Japanese Whisky is adored for its vanilla oakiness, spice, restrained sweetness and mild aromatic smoke. vanilla and chocolate. Mildly flavoured with an oily mouthfeel.
First-fill and second-fill American ex-bourbon casks are used for maturation of this expression.

Note: This product is delivered by Oak & Barrel. Please direct any shipping-related feedback or enquiries to them at orders@oakandbarrel.com.sg.