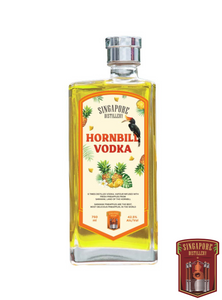 ✔ Authorised Retailer
Roses are red, Pandans are green, we couldn't get enough of their Coconut Pandan Gin. No one celebrates Singaporean flavours quite as well as Singapore Distillery, with a multitude of creations that reflect classic local confection. One evokes the creaminess of coconut milk and pandan. Another, an ode to Malay rose syrup (Bandung).

Distilled with the freshest herbs sourced from humble local grocers, these folks tell us exactly how Singapore tastes in a bottle 🥥🌴🌹🧉.

They distil a wicked vodka too, this one infused with fresh pineapples sourced from the rainforests of Borneo, East Malaysia.
The Dayak tribe of Borneo considers the native hornbill birds to represent the spirit of their deity. Having a hornbill fly over a household is a sure sign of good fortune to come. So, too, does a ritualistic rolling of pineapples bring good luck according to Chinese folklore.
Distilled 6 times over (an auspicious number) the Hornbill Vodka is vapour infused with fresh pineapples sourced from Borneo, where the Bornean hornbill resides. The resulting spirit is further subject to a "finishing period" where it is steeped with yet more pineapples. 

This vodka is so smooth it could be drunk neat without feeling so much as a prick. Sweet and perfumed aromas of pineapples fill the nose as this is sipped. 
Singapore Distillery wishes drinkers of their Hornbill Vodka would enjoy every success and great prosperity 🧧🍍!
Note: This product is delivered by Singapore Distillery. Please direct any shipping-related feedback or enquiries to them at admin@singaporedistillery.com