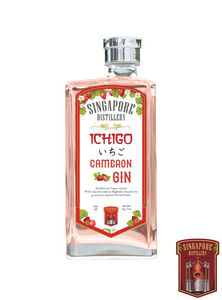 ✔ Authorised Retailer
Roses are red, Pandans are green, we couldn't get enough of their Coconut Pandan Gin. No one celebrates Singaporean flavours quite as well as Singapore Distillery, with a multitude of creations that reflect classic local confection. One evokes the creaminess of coconut milk and pandan. Another, an ode to Malay rose syrup (Bandung). 

Distilled with the freshest herbs sourced from humble local grocers, these folks tell us exactly how Singapore tastes in a bottle 🥥🌴🌹🧉.

Each bottle of Ichigo Cameron Gin is infused with the equivalent of a 200g punnet of fresh Japanese strawberries grown in the Cameron Highlands of Malaysia– a plateau known for its unusually cool weather, fruit orchards, waterfalls and cloud forests.
The strawberries are whisked off to Singapore in their freshest state – plucked just one day before they are used for distillation at Singapore Distillery.  
The gin is first distilled together with strawberries and the usual botanicals, before a "finishing period" where the resulting spirit is steeped with yet more strawberries. This creates an incredibly delicate, fresh and sweet gin with a gentle aroma of strawberry jam and a light grassiness.
Note: This product is delivered by Singapore Distillery. Please direct any shipping-related feedback or enquiries to them at admin@singaporedistillery.com