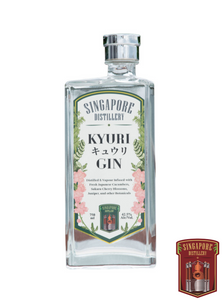 ✔ Authorised Retailer
Roses are red, Pandans are green, we couldn't get enough of their Coconut Pandan Gin. No one celebrates Singaporean flavours quite as well as Singapore Distillery, with a multitude of creations that reflect classic local confection. One evokes the creaminess of coconut milk and pandan. Another, an ode to Malay rose syrup (Bandung).

Distilled with the freshest herbs sourced from humble local grocers, these folks tell us exactly how Singapore tastes in a bottle 🥥🌴🌹🧉.

One of their Japonais creations, the Kyuri Gin is distilled with fresh Japanese cucumbers along with Pink Cherry Blossom flowers.
With a taste closer to melon or squash, Japanese cucumbers or "Kyuri" have no bitterness at all, but a light, crisp and mildly sweet taste. These are left to soak in alcohol for 24 hours along with the usual botanicals, before distillation.
During distillation, Sakura petals and more Kyuri are placed in a vapour basket to infuse the gin with further aromas of light grassiness and a subtle, perfumed note.
The result is a refreshing gin with a crisp, mildly grassy note and elegant floral aromas. Suitable for cocktail but highly enjoyable on its own or with mild tonic water. 
Note: This product is delivered by Singapore Distillery. Please direct any shipping-related feedback or enquiries to them at admin@singaporedistillery.com