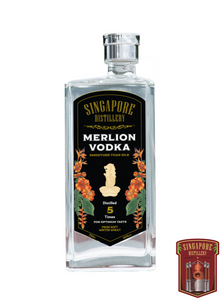 ✔ Authorised Retailer
Roses are red, Pandans are green, we couldn't get enough of their Coconut Pandan Gin. No one celebrates Singaporean flavours quite as well as Singapore Distillery, with a multitude of creations that reflect classic local confection. One evokes the creaminess of coconut milk and pandan. Another, an ode to Malay rose syrup (Bandung). 

Distilled with the freshest herbs sourced from humble local grocers, these folks tell us exactly how Singapore tastes in a bottle 🥥🌴🌹🧉.

They distil a wicked vodka too.

Merlion Vodka is a 5-times distilled spirit derived from French Winter Wheat. The high number of distillation routines results in a pure and refined spirit that is incredibly easy to drink but retains an optimal amount of crisp, slightly mineral notes. 
Perfect for a Vodka Martinini or a White Russian.
Note: This product is delivered by Singapore Distillery. Please direct any shipping-related feedback or enquiries to them at admin@singaporedistillery.com