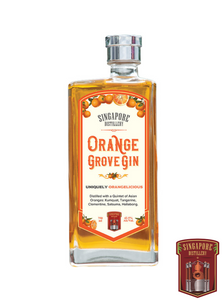 ✔ Authorised Retailer
Roses are red, Pandans are green, we couldn't get enough of their Coconut Pandan Gin. No one celebrates Singaporean flavours quite as well as Singapore Distillery, with a multitude of creations that reflect classic local confection. One evokes the creaminess of coconut milk and pandan. Another, an ode to Malay rose syrup (Bandung). 

Distilled with the freshest herbs sourced from humble local grocers, these folks tell us exactly how Singapore tastes in a bottle 🥥🌴🌹🧉.


The Orange Grove Gin is made with 5 varieties of oranges from different continents: Chinese Kumquats, Tangerines, Algerian Clementines, Japanese Satsumas and Korean Hallabongs.
This has a fresh, pulpy, orangey aroma, and a palate of sweet tangerines balanced with woodsy juniper and herbaceous botanicals. 
Ashwin, the Head Distiller, recounts spending a long period perfecting the recipe for the Orange Grove Gin, naturally extracting the right flavours and aromas from these oranges through distillation. No artificial orange syrups or concentrates were necessary.
Highly recommended for a G&T or a Negroni!

Note: This product is delivered by Singapore Distillery. Please direct any shipping-related feedback or enquiries to them at admin@singaporedistillery.com