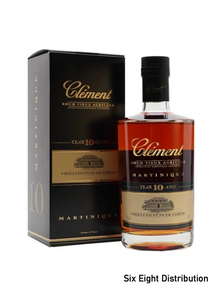 ✔ Authorised Retailer
Clément 10 Years Old Rhum Agricole has been distilled from fresh pressed sugarcane juice and aged a minimum of 10 years in a combination of virgin and re-charred oak barrels, yielding an exceptional aged Agricole Rhum with unique characteristics of cinnamon and vanilla. The nose reveals aromatic intensity of raw wood, dried spice and toasted fruit, leading to warm bakery flavours that carry through to an unimaginably lengthy finish.
Note: This product is delivered by Six Eight. Please direct any shipping-related feedback or enquiries to them at timothy@sixeightdistribution.com.