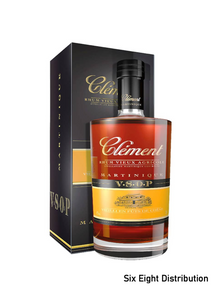 ✔ Authorised Retailer
Clément VSOP is a rhum agricole, matured for a year in virgin French oak barrels, before a three-year maturation in re-charred bourbon barrels. This was awarded a Gold by the Beverage Tasting Institute and also received 96 points out of a possible 100 from Wine Enthusiast.
Tasting Notes:
On the nose, Clément VSOP Rhum Agricole almost resembles a Scotch whisky, with the charred oak aromas rising out of the glass mixed with vanilla, spices and floral notes. On the palate, the spirit develops an elegant herbal quality, with sage, thyme and rosemary mixing with brown sugar, roasted coffee and fruit flavors of red grapes, mango and banana. The finish is long, lingering and smooth, allowing all the components to meld together.
Note: This product is delivered by Six Eight. Please direct any shipping-related feedback or enquiries to them at timothy@sixeightdistribution.com.