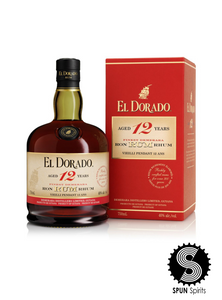 ✔ Authorised Retailer
✔ 88 Bamboo Tried & Tested
Guyana may well be located in South America, but its soul is fully Caribbean. El Dorado is a pioneering brand of premium sipping rum (i.e. good enough to drink neat) from the only remaining live distillery in Guyana - the Diamond Distillery. Credited for popularising sipping rum in a market that did not originally appreciate rum neat, El Dorado has gone on to win many awards and become recognised as the world's best rum at many competitions. Their rums have a signature note of cinnamon sugar, banana cake, chocolate syrup and a liquorice-like note of Chinese Pei Pa Koa syrup (枇杷膏).
The multiple award-winning El Dorado 12 is a blend of rums from a Coffey column still and Diamond Distillery's famous wooden pot still (the only operational one in the world), giving it lightly chocolatey and sweet flavours.
Nose: Sweet, toffee, vanilla, spices, oak. Hints of smoke.
Taste: Cocoa, caramel, prunes, spices, vanilla.
Finish: Long, sublimely smooth, hints of smoke on the tail.
Note: This product is delivered by SPUN Spirits. Please direct any shipping-related feedback or enquiries to them via WhatsApp.