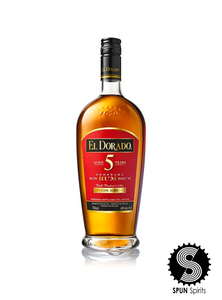 ✔ Authorised Retailer
✔ 88 Bamboo Tried & Tested
Guyana may well be located in South America, but its soul is fully Caribbean. El Dorado is a pioneering brand of premium sipping rum (i.e. good enough to drink neat) from the only remaining live distillery in Guyana - the Diamond Distillery. Credited for popularising sipping rum in a market that did not originally appreciate rum neat, El Dorado has gone on to win many awards and become recognised as the world's best rum at many competitions. Their rums have a signature note of cinnamon sugar, banana cake, chocolate syrup and a liquorice-like note of Chinese Pei Pa Koa syrup (枇杷膏).
The El Dorado 5 is fresh, bright, and full of tropical yellow fruits without the clinging liquorice sweetness of older expressions. Its freshness makes for a great gateway for Scotch whisky drinkers who are new to the rum world. This also makes for a great tropical fruit cocktail. Daiquiri or Piña Colada? Take your pick.
Note: This product is delivered by SPUN Spirits. Please direct any shipping-related feedback or enquiries to them via WhatsApp.