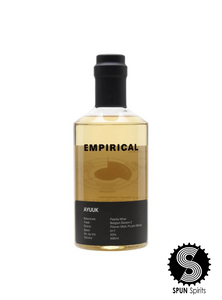 ✔ Authorised Retailer
There are innovative distillers, and there are innovative distillers. Copenhagen-based Empirical Spirits was co-founded in 2017 by Restaurant Noma chef-turned-distiller Lars Williams. The distillery concentrates purely on desirable flavour profiles rather than traditional methods, and applies some avant garde techniques to produce spirits that are pretty much impossible to categorise. But we'll try to make sense of them for you.
The Ayuuk from Empirical Spirits is a Danish botanical spirit made from pilsner barley and Saskatchewan purple wheat that has been fermented with koji (a mould used to make Japanese saké) instead of yeast. Halfway through distillation, the partially-distilled spirit (or low wines) are infused with charred and smoky Pasilla Mixe chilis from Oaxaca, Mexico, before being redistilled. The resulting spirit is then introduced to a small amount of kombucha (made from the Pasilla Mixe chilis), before 5 days of "finishing" in an ex-Oloroso Sherry cask to impart some warmth.
The final result is a gently smoky spirit with some fruity sweetness, rather reminiscent of an earthier version of Patrón Reposado tequila.
To make this expression, Empirical Spirits had partnered with chili farmers in Mexico's Sierra Mixe mountains to support the tradition of growing Pasilla Mixe. A sip of this Ayuuk provides flavours of the landscape, stories of the Sierra Mixe farmers, and a taste of the air as you hike through the woody Sierra Norte Mountains.
Note: This product is delivered by SPUN Spirits. Please direct any shipping-related feedback or enquiries to them via WhatsApp.