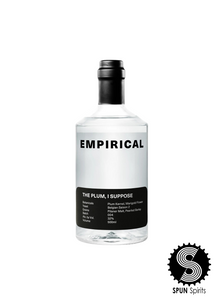 ✔ Authorised Retailer
There are innovative distillers, and there are innovative distillers. Copenhagen-based Empirical Spirits was co-founded in 2017 by Restaurant Noma chef-turned-distiller Lars Williams. The distillery concentrates purely on desirable flavour profiles rather than traditional methods, and applies some avant garde techniques to produce spirits that are pretty much impossible to categorise. But we'll try to make sense of them for you.
Inspired by a line from Robert Frost's poem "The Rose Family", The Plum, I Suppose is a sweet, floral spirit made from fermenting pilsner malt and Asian pearl barley with koji, and a botanical infusion halfway through distillation with dried plum kernels and marigolds.
The palate offers nutty notes of toasted almonds, marzipan and sweet summer flowers and preserved Japanese plums. This marzipan and frangipane-forward spirit was in fact inspired by a dessert Lars Williams once had in his childhood; he still maintains that this is the best dessert of all time.
Note: This product is delivered by SPUN Spirits. Please direct any shipping-related feedback or enquiries to them via WhatsApp.