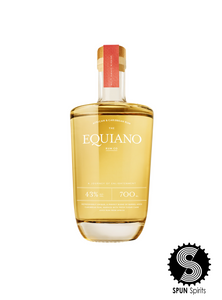 ✔ Authorised Retailer
Named after Olaudah Equiano, a former slave and freedom fighter in the 18th century, Equiano is dubbed the first African-Caribbean rum in the world, incorporating a mixture of spirits from African and Caribbean distilleries. Fresh sugar cane rum is first distilled in Gray's Distillery, Mauritius where it's aged for 10 years before it is transported to Barbados to be married with molasses rum from the famous Foursquare Distillery.
The Equiano Light Rum is an exceptional blend of lightly-aged molasses rum from the Caribbean, fused with fresh sugar cane juice rum from Africa. This leaves it with notes of vanilla and green apple, subtle grassy hints, cinnamon and ginger and just a smidge of caramel.

Note: This product is delivered by SPUN Spirits. Please direct any shipping-related feedback or enquiries to them via WhatsApp.