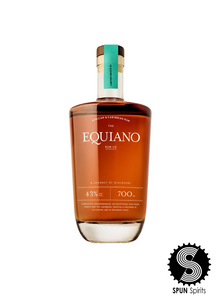 ✔ Authorised Retailer
Named after Olaudah Equiano, a former slave and freedom fighter in the 18th century, Equiano is dubbed the first African-Caribbean rum in the world, incorporating a mixture of spirits from African and Caribbean distilleries. Fresh sugar cane rum is first distilled in Gray's Distillery, Mauritius where it's aged for 10 years before it is transported to Barbados to be married with molasses rum from the famous Foursquare Distillery.
This is the world's first African and Caribbean rum which marries sugar cane rum from Gray's Distillery in Mauritius and molasses rum from Foursquare Distillery in Barbados. The rum from Foursquare was aged in American white oak, while the rum from Gray's is aged in French limousin oak and Cognac casks. The liquids are then married in ex-bourbon casks at Foursquare.
Nose: Buttery oak up front, followed by marmalade on toast, chocolate truffle and dried berries.
Taste: Still rich in chocolate and oak, though now with butterscotch and stem ginger in support.
Finish: Juicy raspberry, orange oils and fennel.
Note: This product is delivered by SPUN Spirits. Please direct any shipping-related feedback or enquiries to them via WhatsApp.