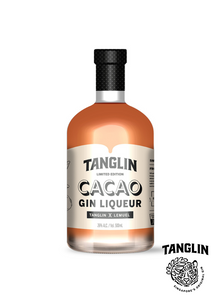 ✔ Authorised Retailer
✔  88 Bamboo Tried and Tested
Established in Singapore in 2018, the award-winning Tanglin Gin Distillery is credited for putting the Southeast Asian island state on the world map as a gin-producer. Their gins articulate Singapore's melting pot of Asian culinary influences, flaunting local spices and botanicals like angelica root, amchoor (unripe mango), orchids and vanilla. And we think they do a darn good job of capturing these disparate influences in a harmonious, balanced, well-integrated way.

Each bottle has distinct flavours and nuances. They would make great cocktails but without complicating things, they are very enjoyable neat or with good tonic water. 
Tanglin's Cacao Gin Liqueur is a special edition created by Tanglin Creations Lab in collaboration with Singaporean artisanal bean-to-bar chocolate maker, Lemuel Chocolate.
The idea arose out of discussions between Lemuel Chocolate and Tanglin Gin on whether there is any use for the byproducts of gin distillation and chocolate-making. The Cacao Gin Liqueur was conceived – tasty liqueur with Milo-forward notes made out of spent cacao husks and the bitter-flavoured spirit at the end of a distillation cycle (or the 'tails'). Tanglin x Lemuel's Cacao Gin Liqueur is a surprisingly delightful liqueur you could drink neat – a perfect gift for gin and chocolate lovers.
Key Ingredients: Cacao husks, Tanglin 'tails' and Raw cane sugar. 
Tasting notes: With its front fruity and floral notes, chocolatey middle and caramel endnote.
How to enjoy: Pour over ice or get creative and make your own 'Brandy Alexander'. 
To learn more about Tanglin Distillery, click here.
Note: This product is delivered by Tanglin Gin. Please direct any shipping-related feedback or enquiries to them at info@tanglin-gin.com.