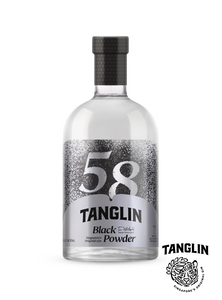 ✔ Authorised Retailer
✔  88 Bamboo Tried and Tested
A super smooth award-winning navy-strength gin. A must-try.
Established in Singapore in 2018, the award-winning Tanglin Gin Distillery is credited for putting the Southeast Asian island state on the world map as a gin-producer. Their gins articulate Singapore's melting pot of Asian culinary influences, flaunting local spices and botanicals like angelica root, amchoor (unripe mango), orchids and vanilla. And we think they do a darn good job of capturing these disparate influences in a harmonious, balanced, well-integrated way.

Each bottle has distinct flavours and nuances. They would make great cocktails but without complicating things, they are very enjoyable neat or with good tonic water. 

Tanglin Gin's navy strength gin comes in at a punchy 58% ABV, making it an ideal gin for your cocktails, but still super smooth for sipping. Any navy strength gin has to be above 57% ABV, the strength at which gin drenched gunpowder still ignites when lit. Rest-assured this award-winner has no rough edges and is creamy smooth.
Tanglin's Black Powder Gin recipe departs from Tanglin's Orchid Gin in two ways: half the juniper pods are bruised and whole fresh lemons are added into the botanical blend for a bright citrus note.
Tasting notes: Gentle citrus nose with a bold Juniper character and pepper note. This gin has distinct umami with a depth of flavour and a slight sweetness and warmth. Peppery herbal notes for a long and lingering finish that is gentle and smooth.
Ingredients: Juniper, Coriander, Vanilla and Amchoor (a fruity spice powder made from dried unripe green mango), Fresh Lemons. 
How to enjoy: With Orchid Gin at its heart, with surprisingly extra smoothness, try it neat, hold it in the mouth and allow the taste buds to open, warming the liquid before swallowing. 
For full review and tasting notes, and to learn more about Tanglin Distillery, click here.
Note: This product is delivered by Tanglin Gin. Please direct any shipping-related feedback or enquiries to them at info@tanglin-gin.com.