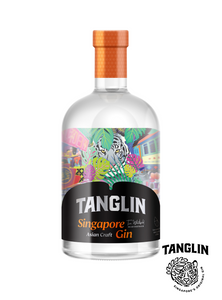 ✔ Authorised Retailer
✔  88 Bamboo Tried and Tested
A citrusy gin with chilli and ginger to give the taste buds a lift.
Established in Singapore in 2018, the award-winning Tanglin Gin Distillery is credited for putting the Southeast Asian island state on the world map as a gin-producer. Their gins articulate Singapore's melting pot of Asian culinary influences, flaunting local spices and botanicals like angelica root, amchoor (unripe mango), orchids and vanilla. And we think they do a darn good job of capturing these disparate influences in a harmonious, balanced, well-integrated way.

Each bottle has distinct flavours and nuances. They would make great cocktails but without complicating things, they are very enjoyable neat or with good tonic water. 
This gin is crafted to capture Singapore's original pioneering spirit and the range of flavours cultivated and brought into our shores.
Tasting notes: Fresh natural sweet mandarin citrus characters and a hint of orange blossom and kaffir lime. Kaffir Lime on the front palate, sweet mandarin orange citrus with a ginger hint on the middle palate. Young ginger and the Kampot Pepper combine with the chilli to give a hint of warmth that lingers and doesn't burn.
Ingredients: Juniper, Young Ginger, Kaffir Lime Leaves, Chilli, Cassia and Mandarin Peel.
How to enjoy: For a gin and tonic, 50 ml Singapore Gin, 150 ml Tonic. Add a slice of pineapple and top with fresh kaffir lime leaves. Combine with a large ice cube.
For full review and tasting notes, and to learn more about Tanglin Distillery, click here.
Note: This product is delivered by Tanglin Gin. Please direct any shipping-related feedback or enquiries to them at info@tanglin-gin.com.