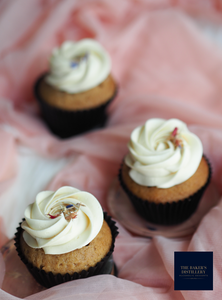 ✔ Authorised Retailer
✔  Exclusively for Singapore addresses 🇸🇬
⚠️ When checking out, please state your Preferred Delivery Date and any Gift Messages in the "Note to Seller" section of the Cart.
⚠️ Due to high demand, kindly place your order 2 to 3 weeks in advance of your Preferred Delivery Date. 
A highly-rated gem for alcohol and dessert lovers, The Baker's Distillery specialises in immaculately-crafted alcoholic cakes and desserts. Nothing that would knock out a light drinker, but packing enough punch so whisky, gin or cocktail lovers know they're having the real boozy deal.​

Alcohol lovers can certainly taste their favourite infused Baileys, whisky or gin, but it's pretty much impossible to get drunk eating these bakes.
For you who love your rum & raisin gelato, experience bursts of rum from these rum-soaked raisins with every bite of this cupcake! 
Note: This product is delivered by The Baker's Distillery. Please direct any shipping-related feedback or enquiries to them via WhatsApp at +65 9784 7386.