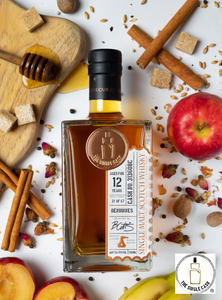 ✔ Authorised Retailer
✔ 1 of 67 Bottles
Benrinnes is not a whisky you see often, in fact you would probably know the whisky better from where it is used as a key component - heard of Johnnie Walker?

Yes, Benrinnes is hardly seen bottled as a single malt since it is considered as one of the key essential malts to Diageo, and so most of its output simply goes into the JW blends.

As a result, not too much is known about this mystery whisky's characteristic flavors aside from its usual fruity and spicy notes, and a light to medium-bodied texture.

This Sherry cask matured Benrinnes has all the notes you'd want - good strength, sweet honey, floral notes and Oh! What's this? Bananas? What a pleasant surprise.

This would go great with tea cakes, banana bread and dessert.
Nose: Floral, Sweet, Banana 
Palate: Spicy, Honey, Floral
Finish: Medium, Honey, Sweet orchard fruits 
Bottle Stats
| | |
| --- | --- |
| Distillery: Benrinnes | Brand: The Single Cask |
| Region: Speyside, Scotland | Status: Active |
| Distributor: Independent Bottling (IB) | Classification: Scotch Whisky |
| Style: Single Malt | Cask: 1st Fill PX Octave |
|  Age: 12 Years Old | Abv: 54.9% |
Note: This product is delivered by The Single Cask. Please direct any shipping-related feedback or enquiries to them.