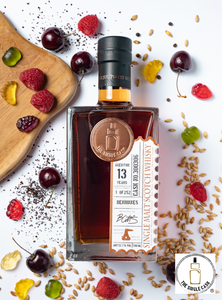 ✔ Authorised Retailer
✔ 1 of 252 Bottles
Benrinnes is not a whisky you see often, in fact you would probably know the whisky better from where it is used as a key component - heard of Johnnie Walker?

Yes, Benrinnes is hardly seen bottled as a single malt since it is considered as one of the key essential malts to Diageo, and so most of its output simply goes into the JW blends.

As a result, not too much is known about this mystery whisky's characteristic flavors aside from its usual fruity and spicy notes, and a light to medium-bodied texture.

This expression has been finished in an active Shiaz Red Wine Barrique, imparting rich and savoury nuttiness (described as "rancio"), cherries and light tannins. Perfect for anyone who enjoys sticky date pudding and other rich desserts. Pair this with red meats, smoky cold cuts and cheese boards.
Tasting Notes:

Nose: Rancio at the fore, followed by sour cherries, black pepper, malt, oak, red wine and gummy bears
Palate: Rancio and black pepper followed by sour cherries, gummy bears, malt, oak and tannic hints
Finish: Sour cherries, rancio, oak and tannic hints at the end
Bottle Stats
| | |
| --- | --- |
| Distillery: Benrinnes | Brand: The Single Cask |
| Region: Speyside, Scotland | Status: Active |
| Distributor: Independent Bottling (IB) | Classification: Scotch Whisky |
| Style: Single Malt | Cask: Shiraz Barrique, Cask #300306 |
|  Age: 13 Years Old | Abv: 52.7% |
Note: This product is delivered by The Single Cask. Please direct any shipping-related feedback or enquiries to them.