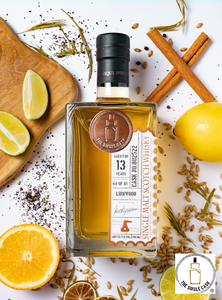 ✔ Authorised Retailer
✔ 1 of 81 Bottles
You may not have heard of Linkwood Distillery. But chances are that you have unknowingly drunk some Linkwood in your time from Uncle Johnnie Walker.

Occasionally seen in independent bottlings, Diageo very rarely issue official releases of Linkwood, preferring instead to promote the Johnnie Walker brand instead.

Linkwood falls within the fruity, floral category of Speyside malts. What stands out, and is greatly prized by Scotch blend-makers, is Linkwood's combination of sweet honeyed notes, apple juice and lemon grass with an uncharacteristic heavy, velvety texture. 

This expression has been matured in a first-fill bourbon barrel and bottled at cask strength, giving it ripe orchard fruits, an unusual green tea-like complexity (less commonly seen in Linkwood bottlings) and a lovely thick, waxy texture. Perfect for anyone craving for a light fruity spirit for sipping at any time of the day, really. 
Tasting Notes:

Nose: Hints of green fruit coupled with green tea, oak, malt, white pepper and citrus
Palate: Citrus and green fruits, followed by oak, malt, white pepper, cinnamon and green tea
Finish: Medium finish with the citrus and green fruits, green tea and oak at the fore
Bottle Stats
| | |
| --- | --- |
| Distillery: Linkwood | Brand: The Single Cask |
| Region: Speyside, Scotland | Status: Active |
| Distributor: Independent Bottling (IB) | Classification: Scotch Whisky |
| Style: Single Malt | Cask: 1st Fill Bourbon, Cask #802522 |
|  Age: 13 Years Old | Abv: 55.5% |
Note: This product is delivered by The Single Cask. Please direct any shipping-related feedback or enquiries to them.