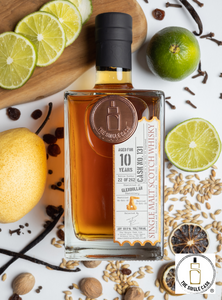 ✔ Authorised Retailer
✔ 1 of 262 Bottles
Alongside Dufftown and Glen Ord, Glendullan is one of three distilleries that fall under Diageo's famous Singleton brand. Glendullan is known for its fruitiness, grassiness and light vanilla-oaked profile that is greatly valued by whisky blends. This expression was matured in a bourbon hogshead before being transferred to a first-fill Pedro Ximénez hogshead for finishing.
Tasting Notes:
Nose: Pear juice, wine gums, raisins, oak, slight vanilla, green tea, cloves, nutmeg and barley sugar.
Palate: Pear juice, pear drops, green tea, lime, oak, vanilla, black pepper, nutmeg, cinnamon and malt.
Finish: Medium to long finish, pear juice, black pepper and oak.
Bottle Stats
| | |
| --- | --- |
| Distillery: Glendullan | Brand: The Single Cask |
| Region: Speyside, Scotland | Status: Active |
| Distributor: Independent Bottling (IB) | Classification: Scotch Whisky |
| Style: Single Malt | Cask: First Fill PX, Cask #131 |
|  Age: 10 Years Old | Abv: 60.0% |
Note: This product is delivered by The Single Cask. Please direct any shipping-related feedback or enquiries to them.