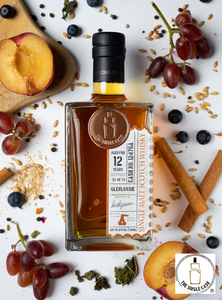 ✔ Authorised Retailer
✔ 1 of 79 Bottles
You know how some families are just (annoying) stacked with high achievers? Glenlossie belongs to one of those.
Glenlossie, the Speyside Scotch distillery, was started by a John Duff. John Duff was a manager of GlenDronach Distillery, before setting sail for the US. He then headed back to Scotland where he then set up Longmorn Distillery, as well as BenRiach Distillery – 

pretty famous siblings Glenlossie has.

 Consequently, with all his eggs in one basket, the big Pattison Crash no doubt devastated him. 



The distillery later became one of Diageo's twelve "top class" blending malts. Diageo at the time was busy churning out blends, which were highly popular at the time, and so Glenlossie was allocated under the Haig blend, which took up most of the whiskies it produced.
This one is a malt bomb, with lots of cereal and oat notes. Perfect for those who love oat milk.
Tasting Notes:

Nose: Oatmeal porridge, slightly grassy, savoury 
Palate: Malty, slightly grassy, oatmeal porridge, savoury, szechuan pepper, creamy
Finish: Medium, malt follows through
Bottle Stats
| | |
| --- | --- |
| Distillery: Glenlossie | Brand: The Single Cask |
| Region: Speyside, Scotland | Status: Active |
| Distributor: Independent Bottling (IB) | Classification: Scotch Whisky |
| Style: Single Malt | Cask: 1st Fill Oloroso Octave |
|  Age: 12 Years Old | Abv: 56.8% |
Note: This product is delivered by The Single Cask. Please direct any shipping-related feedback or enquiries to them.