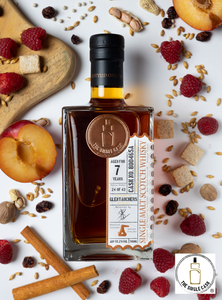 ✔ Authorised Retailer
✔ 1 of 43 Bottles
Glentauchers, also part of the 1890's gang, the golden era of Scotch distilleries, with many of them going full steam ahead, setting up distilleries to provide different styles of single malts that could be used to create the most popular blends.

Here, we have Glentauchers of Ballantine's fame. A whisky that is prized for its creamy texture, yet light, florals, you can expect to find fruity notes, baking spices, and an umami nuttiness.

This was finished in an Oloroso cask that gives it a more peppery kick that is reminiscent of Szechuan peppers, yet retaining a nice sour berries kick that's alittle like Nerds candies.


Pairs great with Chinese wok fry, lamb chops or German schnitzel with a side of sauerkraut.
Tasting Notes:

Nose: Honey, Soft Red fruits, cinnamon, malt
Palate: Black pepper, sweet, sour berries, raisins, nutty
Finish: Medium, nutty, slightly drying
Bottle Stats
| | |
| --- | --- |
| Distillery: Glentauchers | Brand: The Single Cask |
| Region: Speyside, Scotland | Status: Active |
| Distributor: Independent Bottling (IB) | Classification: Scotch Whisky |
| Style: Single Malt | Cask: Oloroso Finish |
|  Age: 7 Years Old | Abv: 55.2% |
Note: This product is delivered by The Single Cask. Please direct any shipping-related feedback or enquiries to them.