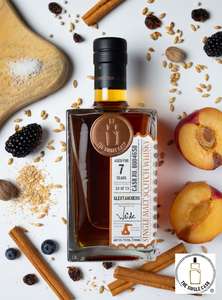 ✔ Authorised Retailer
✔ 1 of 73 Bottles
Glentauchers, also part of the 1890's gang, the golden era of Scotch distilleries, with many of them going full steam ahead, setting up distilleries to provide different styles of single malts that could be used to create the most popular blends.

Here, we have Glentauchers of Ballantine's fame. A whisky that is prized for its creamy texture, yet light, florals, you can expect to find fruity notes, baking spices, and an umami nuttiness.

This was finished in an PX cask that is sweeter and richer, giving this bottle a wonderfully honeyed profile, with lush notes of raisin bread, cinnamon swirls and malty oat biscuits.


Pairs great with roast chicken or turkey and would go well with dessert.
Tasting Notes:

Nose: Golden Syrup, Cinnamon, oak, spicy, white pepper, cereal 
Palate: Golden syrup, raisins, prunes, cinnamon, nutmeg, black pepper
Finish: Medium, slightly salty, hint of oak
Bottle Stats
| | |
| --- | --- |
| Distillery: Glentauchers | Brand: The Single Cask |
| Region: Speyside, Scotland | Status: Active |
| Distributor: Independent Bottling (IB) | Classification: Scotch Whisky |
| Style: Single Malt | Cask: PX Cask |
|  Age: 7 Years Old | Abv: 55.7% |
Note: This product is delivered by The Single Cask. Please direct any shipping-related feedback or enquiries to them.