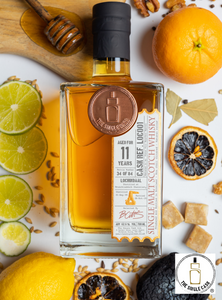 ✔ Authorised Retailer
✔ 1 of 84 Bottles
Encountering a Lochindaal is about as special as finding a four-leaf clover. This is a rare label for a heavily peated style made at Bruichladdich, that many have not heard of. More smoky than Port Charlotte but slightly less smoky than Octomore expressions, it was created to replicate the style of the historic Lochindaal Distillery that closed in 1929.

Unfortunately, the Lochindaal label was discontinued to avoid consumer confusion over the multiplicity of Bruichladdich sub-labels. And what a shame because it exhibits such a lovely marriage of aromatic smoke, soft orchard fruits with a depth of oakiness.

The Lochindaal was only ever distilled twice - once in 2007 and again in 2009. This bottle is part of a limited stock of Lochindaal still available to whisky lovers.
Tasting Notes:
Nose: Ash, dairy, sea salt, honey, malt, orange, lemon, peat, bay leaves, oak and barbecue meats.
Palate: Peat, honey, orange, lemon, lime, pepper, bay leaves, walnuts, oak and malt.
Finish: Long and fruity, with peat, lemon, orange, lime, oak, bay leaves and malt. 
Bottle Stats
| | |
| --- | --- |
| Distillery: Bruichladdich | Brand: The Single Cask |
| Region: Islay, Scotland | Status: Active |
| Distributor: Independent Bottling (IB) | Classification: Scotch Whisky |
| Style: Single Malt | Cask: First Fill Bourbon, Cask #LOC001 |
|  Age: 11 Years Old | Abv: 62.6% |
Note: This product is delivered by The Single Cask. Please direct any shipping-related feedback or enquiries to them.