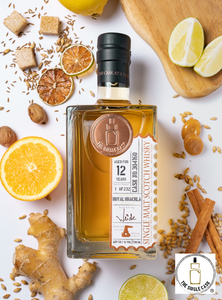 ✔ Authorised Retailer
✔ 1 of 232 Bottles 
Royal Brackla Distillery was the first Scotch distillery to earn a Royal Warrant of Appointment and the right to bear the "Royal" epithet in 1835. This meant that the then monarch - King William IV - loved its whisky so much to appoint the distillery as a regular supplier of Scotch to the Royal Family.

Its single malts are known for their sweet perfumed fruitiness, light ginger spice and clean spirit. The heavy fruitiness is owing to the distillery's long fermentation process (which produces lots of fruity esters) and its tall copper stills. 

This expression has been entirely matured in a First-Fill Bourbon Cask which helps to bring out bright notes of barley sugar, citrus and just a pinch of heat from baking spices and ginger.

Smooth on the palate but just enough complexity to entice another pour. This would be a perfect companion with an apple crumble or other baked treats. 
Tasting Notes:

Nose: Ginger, cinnamon, nutmeg, malt, oak and citrus
Palate: Citrus at the fore, with ginger, barley sugar, cinnamon, nutmeg and toffee hints
Finish: Long finish with the ginger, barley sugar, citrus and wood spices quite dominant
Bottle Stats
| | |
| --- | --- |
| Distillery: Royal Brackla | Brand: The Single Cask |
| Region: Highland, Scotland | Status: Active |
| Distributor: Independent Bottling (IB) | Classification: Scotch Whisky |
| Style: Single Malt | Cask: 1st-Fill Bourbon, Cask #304160 |
|  Age: 12 Years Old | Abv: 58.1% |
Note: This product is delivered by The Single Cask. Please direct any shipping-related feedback or enquiries to them.