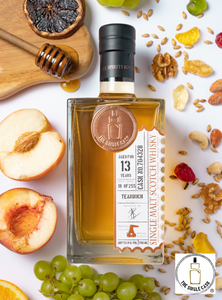 ✔ Authorised Retailer
✔ 1 of 255 Bottles
Teaninich ("tun-NEE-nick") was founded in 1817 by Napoleonic war hero, Hugh Munro. At a time when countless poor farmers could be forcibly evicted by landlords to make way for more profitable ventures (see the early history of Brora Distillery), Munro was celebrated for being a benevolent estate owner. He advocated for the common folk with the authorities, and even established the said distillery to provide gainful employment. 

The modern Teaninich Distillery has some of the most advanced equipment in the Scotch industry. It remains the only Scotch malt distillery that uses a hammer mill and mash filter. This process produces highly refined malt extract, giving the resulting spirit a meadow-like grassiness and floral notes reminiscent of Jasmine tea. Small, bulbous copper stills are used for distillation, leading to a pleasant waxy texture. 

This expression has been matured in a 1st-Fill Bourbon Barrel, imparting delicate, sugary notes of cotton candy, soft fruit gummies and a mild citric zestfulness. Pair this delicate dram with grilled unagi sushi and savoury bonito fish broth.
Tasting Notes:

Nose: Malty, fruity, white grapes, pear juice, fresh, candy
Palate: Light, fruity, very chewy, like soft fruit candy jelly tots, orange zest
Finish: Creamy, mixed nuts, honey
Bottle Stats
| | |
| --- | --- |
| Distillery: Teaninich | Brand: The Single Cask |
| Region: Highland, Scotland | Status: Active |
| Distributor: Independent Bottling (IB) | Classification: Scotch Whisky |
| Style: Single Malt | Cask: 1st-Fill Bourbon, Cask #704328 |
|  Age: 13 Years Old | Abv: 53.8% |
Note: This product is delivered by The Single Cask. Please direct any shipping-related feedback or enquiries to them.