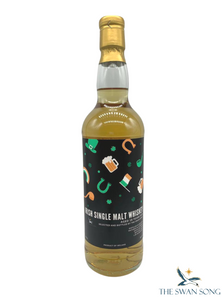 ✔ Authorised Retailer
✔ 88 Bamboo Tried and Tested
✔ 1 of 88 Bottles
For a long time, "Irish whiskey" had been firmly defined with a singular style by one company that cornered the market: Irish Distillers Limited (IDL). 

Cooley Distillery was founded to offer a genuine alternative. It does a few things differently, with its use of double-distillation, 100% malt barley and sometimes, peat. This is effortless to drink, like other Irish whiskies. Yet there's significantly more weight and conviction in its fruity apple-y flavours. So, here's a dram for the misfits. The ones who see things differently.

Flavour Profile: Fruity and Spicy 
Tasting Notes:
Nose: Fresh, fruity, gentle and inviting. Pressed Apple Juice, Pears, Rock Melons unfolding into Pineapples and Lychees. Peppermint and Wet Cut Grass.
Palate: Refreshing, luscious, semi-sweet. Apple Cider, Green Apple Gummy Candy giving way to Vanilla Cream.
Finish: Cool and mentholated. Fading Vanilla with Honeyed Herbal Jelly. 
Bottle Stats
| | |
| --- | --- |
| Distillery: Cooley (unconfirmed) | Brand: The Swan Song |
| Region: County Louth, Ireland | Status: Active |
| Distributor: Independent Bottling (IB) | Classification: Irish Whiskey |
| Style: Single Malt | Cask: Undisclosed |
| Age: 18 Years Old | Abv: 48.6% |
Note: This product is delivered by The Swan Song. Please direct any shipping-related feedback or enquiries to them.