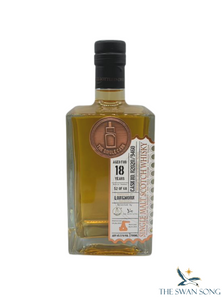 ✔ Authorised Retailer
✔ 1 of 68 Bottles
Longmorn is one of those distilleries known for very high quality malt produced since the 1960s. It was founded in 1894 by the enterprising John Duff. Its malt has been highly prized by blenders to create the VAT69 and Dewar's brands of Scotch.

The distillery's story includes a list of familiar names from the annals of whisky history- Masataka Taketsuru, the founding father of Nikka, apprenticed at Longmorn before returning to Japan to create history. The copper stills at Nikka's two distilleries are said to have been modelled after Longmorn's stills. Longmorn's influence on Taketsuru is perhaps a factor in Longmorn having a cult following in Japan today.

The spirit is rich and weighty, with distinctive notes of grapefruit. The weight of the spirit also makes it an ideal malt for prolonged cask maturation.     

This particular cask was chosen in collaboration between The Swan Song Bar and The Single Cask. It had been aged for 18 years in an ex-bourbon barrel, and showcases delectable orchard fruits delivered by a lovely mouthfeel, balanced by a light grassiness and a mild herbaceous note. 
Tasting Notes:
Nose: A fruit orchard of pears and apples. A background of soft vanilla intermingled with floral and wild herbs, as it is left to sit, apple custard starts to dominate. 
Palate: Starts on a punchy sweetness then the apple custard followed by a nice grassiness, with a fruity sweetness dominating the palate and a coating of lovely oiliness. Texturally the flavours are more natural, less artificial and grows to become of a powdered floral texture.
Finish: Drying, herbal, and rounded.
Bottle Stats
| | |
| --- | --- |
| Distillery: Longmorn | Brand: The Swan Song / The Single Cask |
| Region: Speyside, Scotland | Status: Active |
| Distributor: Independent Bottling (IB) | Classification: Scotch Whisky |
| Style: Single Malt | Cask: Ex-Bourbon Cask |
|  Age: 18 Years Old | Abv: 45.5% |
Note: This product is delivered by The Swan Song. Please direct any shipping-related feedback or enquiries to them.