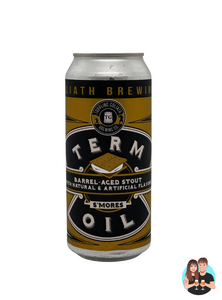 ✔ Authorised Retailer
Juicy, fruity, sour, hoppy - however you like your craft beer, BoozyChewy probably has you sorted. Fresh on the scene, having launched in 2021, this power couple's elevated "pandemic drinking" to the next level: serving craft beers from the US that you often won't find anywhere else in Singapore.
Flavors of perfectly toasted marshmallow and slightly melted chocolate, sandwiched between graham crackers; the Term-Oil S'mores is the liquid version of the classic campfire treat.
Note: This product is delivered by BoozyChewy. Please direct any shipping-related feedback or enquiries to them at boozychewy@gmail.com.